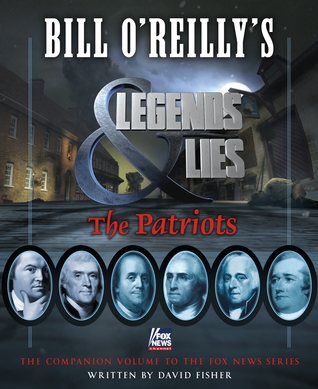 5 of 5 stars *****
How many times can one read similar historical accounts of the same events and be entertained. Well, the answer is an unlimited number of times as long as there is great research penned by great writers. In
Bill O'Reilly's Legends and Lies: The Patriots
, one can add great editing and storytelling to that list.
The author of the companion book to the television series, narrated by Bill O'Reilly, is David Fisher. The editor is Bill O'Reilly. Reading is as effortless and compelling as the series is entertaining and educational. The book offers more information, as books usually do, but the most pertinent new information is still played out on television by a cast of excellent actors attired in costumes appropriate for the American colonies in late 1700. The book also illustrates so beautifully renditions of the hero portraits by celebrated artists as well as maps and sketches used during the Revolutionary War for strategies and espionage.
One can read about the escapades of the American patriots, English loyalists, British commanders, and foreign ally contributors to America's fight for freedom and liberty in a wide assortment of History books. Different information adds to or debunks legends , or at least makes them suspect, while it piques the hungry mind for truth in these matters. Superb writing makes the return to the familiar events a pleasure to revisit as the research of one group validates others.
Bill O'Reilly's Legends and Lies: The Patriots
fits into this category of excellence as an historical account that educates, validates, entertains, and inspires readers to the truth about the people and circumstances in the birth of freedom and liberty in the United States of America.